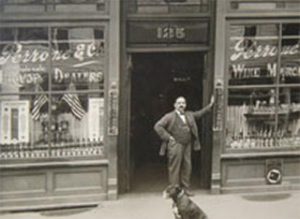 DelReka Distributing, "DelReka," (a hybrid name, combining Del Norte and Eureka) came into existence in 1987, when 40 year old, VP/GM, Craig Perrone completed his purchase of the Andrew Rosaia/Coors Distributing Company "Rosaia Company," from Andrew "Andy" Rosaia. Andy had started the Rosaia Company in 1933.
Craig's roots in the alcohol beverage industry and for his newly purchased, but well-established company, ran deep. His grandfather Giuseppe "Joseph" Perrone, a Sicilian born immigrant, had owned a wholesale beer, wine, and liquor business in Eureka in the early 1900's, Perrone & Company. The building that housed his grandfather's warehouse at 121-125 west 2nd street is still standing today.
Joseph operated Perrone & Company until its "official" closing in 1919 as a result of the Volstead (Prohibition) Act. Joseph continued, however, to bootleg liquor for sometime from behind false walls in his warehouse. Eventually Joseph closed the wholesale operation and bought the Western Hotel in Eureka renaming it the Monte Carlo. Of course, it had an Italian restaurant and until prohibition ended in 1933, a "speak easy" bar! The hotel no longer stands today. Craig never knew his grandfather. Joseph had died eight years before Craig was born.
In 1946, Craig's father Leo, having returned home from service in WWII, and in need of a job, went to work as a liquor salesman for the Rosaia Company. Leo's older brother Lon, Craig's uncle, later joined the Rosaia Company, also as a salesman. Leo worked for the Rosaia Company until Andy sold his brands of liquor, in 1973, to McKesson Liquor Company "McKesson," which, at the time, was the largest wholesale liquor company in the United States. Leo went with McKesson after the sale, and Lon stayed with Andy selling wine on a part time basis until his passing in 1977.
Craig had worked for the Rosaia Company in the early to mid 1960's doing odd jobs as a teenager and assembling liquor display bins at Christmas. After graduating from high school in 1965 he continued to work for the Rosaia Company by driving route delivery trucks and working in the warehouse while going to college. After graduating from Humboldt State College, and with Andy's recommendation to McKesson, Craig went to work for McKesson as their warehouse manager.
After a year of running the Eureka warehouse, Craig was offered an opportunity to go into management training at the McKesson headquarters of his choosing either in New York or San Francisco. To everyone's amazement, he turned the offer down, planning, instead, to pursue a career in education, the field in which he had earned his degree and a teaching credential. In the interim the McKesson Company convinced Craig to go into sales for them to gain experience in that department should he ever change his mind and decide to enter their upper management program.
Three years later, in 1976, successful as a salesman, Craig found himself at a crossroads. He felt, even though he was very successful as a salesman, that he was "wasting" his college education. It was at this critical, mental juncture for him, in June of 1976, that Andy approached Craig and asked him if he would consider rejoining his company. One of Andy's partners, Joe Stemach, GM for Andy's company for 40+ years, had decided to retire. With Andy's encouragement Craig put together the money to buy Joe's shares of the Rosaia Company and went back to work for Andy, but this time, as his VP/GM.
Rejoining the Rosaia Company turned out to be Craig's second opportunity of a lifetime. Over the next eleven years, of hard, 60+ hour workweeks, Craig bought out the four remaining partners in the Rosaia Company. He eventually had to change the name of the company when he finalized the purchase from Andy in 1987 because Andy chose to retain the name "Andrew Rosaia Inc. dba Andrew Rosaia Company" for his family Trust.
DelReka is managed today by the fourth generation of the Perrone Family working locally in the wholesale alcohol beverage industry. Craig's daughter, Jennifer Perrone, a graduate of Humboldt State University with a Master's degree in Finance and Marketing, serves as VP/GM of the company. DelReka proudly distributes a wide variety of top domestic, craft, and imported beers, as well as energy drinks and other non-alcoholic beverages. It is one of the best beverage companies in Northern California and services all of Humboldt and Del Norte counties. Plans are in place for it to be an integral part of the beverage business locally for years to come.